Click here to see a list of resources outside of MFHS programs for those in need due to covid-19.
Updated as of 2-1-2021
Services at all MFHS locations are by appointment only. Operational hours may be adjusted.
WIC is accepting new enrollments. Appointments with nutritionists will be conducted over the phone. Call 1-866-942-8463 to make a WIC appointment.
MFHS Family Planning Centers in Hazleton, Pottsville, Circle of Care, Scranton, and Hawley, are open for limited services. Please contact your local Family Planning Center by phone for details.  Your provider can offer phone consultations, alternatives for visits, and additional contraceptive options if needed.
MFHS Maternity Care at Circle of Care Scranton is open by appointment only. We are accepting new clients and encourage existing clients to keep all upcoming appointments. Call 570-961-5550 to schedule an appointment.
MFHS Nurse-Family Partnership nurses are accepting new clients via telehealth only at this time. New clients can call 570-826-1777 ext 1005 for more information.
MFHS WIC Nutrition Centers: the following WIC Nutrition Centers are OPEN FOR LIMITED SERVICES* (see below for more details on limited WIC services):
Berks County – WIC Center in Reading, and Kutztown WIC satellite
Bradford County – Towanda WIC Center
Carbon County WIC Center in Lehighton
Lackawanna County – Scranton WIC, Circle of Care in Scranton; Jermyn WIC Center
Lehigh County – Lehigh Valley WIC Center, Allentown
Luzerne County – Wilkes-Barre WIC Center, Hazleton WIC Center
Monroe County – East Stroudsburg WIC Center, Tobyhanna WIC Center
Montgomery County – Norristown WIC Center, Lansdale WIC Center, and Pottstown WIC Center
Northampton County – Easton WIC Center
Schuylkill County – Pottsville WIC Center, Shenandoah WIC Center; Tamaqua WIC Center
Tioga County – Wellsboro WIC Center
Wayne County – Hawley WIC Center
Wyoming County – Tunkhannock WIC Center
The following locations are CLOSED until further notice:
Lackawanna County – Carbondale WIC satellite at the YMCA; Alder Street WIC satellite in Scranton
Luzerne County – Nanticoke WIC satellite at Head Start; West Side WIC satellite at RHC in Edwardsville
Pike County – Dingmans Ferry WIC satellite
Sullivan County – Sullivan County WIC satellite in LaPorte
Tioga County – Elkland WIC satellite at Head Start
If you have an upcoming appointment at the WIC locations on the above "closed" list, you will be contacted by a WIC staff member who will provide further instructions on how to access WIC services. Please do not come to the locations listed above as they will be closed. You will be able to go to another nearby WIC Center for benefit pick up (eWIC card re-loading) appointments. Please note the operational hours at WIC locations that are open may have changed due to the COVID-19 crisis.  WIC Centers are open for scheduled appointments only.  Please call ahead before coming to the WIC Center. Click here to find the phone number to your local WIC center.
*Limited Services
All WIC visits will take place over the phone. Appointments are required. Call 1-866-942-8463 for an appointment. WIC Centers are not able to serve walk-ins during this time.
If you have an appointment scheduled, you will receive a phone call from WIC staff who will complete your appointment over the phone and provide information on getting a new eWIC card issued, or re-loading benefits to your current eWIC card.
At MFHS, our goal during this crisis is to continue to provide essential WIC services in a safe and effective way.  We appreciate your continued cooperation and patience.  If you have questions regarding your appointment, please reach out directly to your WIC Center or call MFHS at 1-800-FOR-MFHS (1-800-367-6347) 
In the interest of the health and safety for all the families we serve, we ask that you please reschedule your appointment if you or anyone in your household has: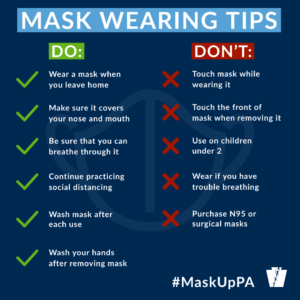 Fever, chills, coughing, signs for respiratory illness or flu-like symptoms
Or has recently: traveled out of the country, or to an area with widespread cases of Coronavirus, or if you have been in contact with anyone know to have the virus.
Call 1-866-942-8463 to reschedule your WIC appointment.
Below are links to resources and information.
For the latest updates on Covid-19 in PA: https://www.health.pa.gov/topics/disease/Pages/Coronavirus.aspx
Centers for Disease Control – Steps to Prevent Illness: https://www.cdc.gov/coronavirus/2019-ncov/about/prevention-treatment.html
Centers for Disease Control – Symptoms: https://www.cdc.gov/coronavirus/2019-ncov/about/symptoms.html